Autumn/ Winter trends 2012: What's in?
OK, so here is a little bit about what I have found to be the most trending apparel and accessories for this coming Autumn and Winter seasons!
In New York, for fashion week designers were seen to be using an array of the usual, sometimes boring, winter colors; brown, black, taupe, winter white, gray and dark blue. The designers have also given us a glimpse of the more exciting, bold colors, using these mainly for their evening wear collections, pastels are also sticking around in the evening wear collections in pretty pastel pinks and blue tones - I can almost visualize the perfect floaty girly dress now!
Deep jewel tones are the way to go this Autumn/ Winter!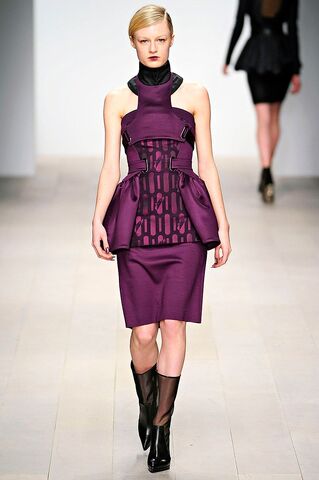 David Koma
Make your coat a statement next season! If you are without a statement coat then now is the time to go out and grab yourself one (or soon!). Coats that are different in any way are going to be big next season, whether it's the material, the print, or the way it's made with parts disproportional, I'm loving this long coat from Topshop so loveable AND affordable!
Big and bold bangles are going to be big for Autumn and Winter, whilst you're at it make sure to pick up some bangles if you haven't any already! For this season we may see some Gothic looking jewelry finding it's way to our mainstream stores, mainly in the form of pendants!
The Fedora is one of the BIGGEST trends! It's squirmed it's way back into fashion! So make sure you aren't seen without one of these for this season! The Fedora hat is an amazing accessory for Winter, pair it with your statement coat and you have one amazing and bang on trend look going on there! Plus how warm will you be?!